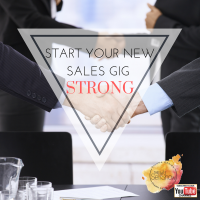 If you're a sales leader – you need new hires to start earning revenue quickly. And, if you're new to a job, you want nothing more than to get those first deals fast and get to On Target Earnings.
But, the typical onboarding documents seem to do the exact opposite – as Shawn Karol Sandy says – "They're Bass-Ackwards"!
Get all the truly gold nuggets about ramping fast here:The SellOut Show #Raw & #Uncut "Sales Onboarding" Episode
To get it right, find below the: DON'T DO THIS and DO THIS INSTEAD to fast-track your way to INK ON PAPER!
Want to Go from 5 to 6 Figures in Sales? Get your FREE eBook!
Here we go – the DON'T DO THIS and DO THIS INSTEAD of new sales onboarding!
Continue reading Sales Onboarding – Start Your New Sales Gig STRONG →