Today we are going to wrap up our exploration of learning from the true greats.
This one has a special place in my heart. In one of my favorite sales gigs, I somehow got nicknamed – "The Closer"!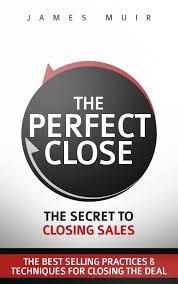 It was my absolute favorite part of the sales process and it still thrills me to take a deal across the finish line.
Like it's better than almost anything else I know.
Now, I don't know about you – or how much you've read about closing. There's tons out there and, frankly, I'm NOT a fan. There is the assumptive close, the trial close, the sharp angle close, the Ben Franklin, The Porcupine… SERIOUSLY?
Wondering how to go from 5 to 6 figures in sales? Check out this Free eBook: http://ebook.solidsixblueprint.com/solid-six-ebook/
I have no idea what these horrible techniques are or where they came from. I truly cringe when I come across them (I found these ones on Google).
Most closes you will learn have nothing to do with creating a great customer experience. They are more about getting the deal done no matter what.
Not true with James Muir. I can attest that this guy is the real deal and brings MORE than a dash of dignity to the art of selling!
Want to be a true pro and create a great reputation for yourself with your clients? Want to get the deal done in the most professional and effective manner?
You must get this book. Plus, James' style of writing makes this an easy and fun read (when did you last hear THAT about a business book?)
The truth is – you can have the best sales processes and the best prospecting techniques, but if you can't close the deal – you've got nothin'!
Do not pass go, do not collect $200, go directly to Amazon and pick up this book for you and another for someone you care about.
James Muir's The Perfect Close:  http://amzn.to/2dMIFav
(Do NOT send this to your competition! Send them to the Porcupine close instead – you can Google it!)
Invest in yourself and don't forget to…
Love CLOSING your deals UP!
The Irreverent Sales Girl
Should you be a salesperson? Take the 100% Reliable Mostly Fool-Proof "Should I Be A Salesperson?" QUIZ here: http://bit.ly/TheISGQuiz