Join Shawn Karol Sandy and me in our conversation about how to negotiate the sale.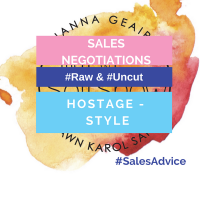 One of the fun moments is the book reveal – how to negotiate like your life depended on it.
Wondering how to go from 5 to 6 figures in sales? Check out this Free eBook: http://ebook.solidsixblueprint.com/solid-six-ebook/
This one is all about how to get the deal closed with the best possible outcomes – for you AND your customer! (What????) Yep. For you AND your customer.
It's the raw and uncut version, so enjoy it like your favorite podcast or glass of wine.
Love the negotiations UP!
The Irreverent Sales Girl
Want to get the juicy stuff – that only my subscribers see? Sign up here!  http://bit.ly/IrreverentTuesday